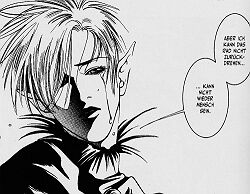 © 1998 Modoru Motoni
Carlsen Verlag"Prince of Monster" sind fünf Horrorgeschichten, die auch die Liebe zwischen den männlichen Hauptcharakteren zum Thema haben.
In "Hymn - Sanbika" muss Lord Yuri seinem Herrn die Treue schwören. Sie haben eine platonische Beziehung.
Allerdings wird das Land von einem Vampir bedroht. Um dem Herr zu werden, kommt der junge Novice Luca auf die Burg.
Schnell hat Luca den Verdacht, daß Yuri mehr über den Vampir weiß, als er zugeben will.
In "Killing Moon" wird Sunako, die Schwester von Satoshi getötet. Als er ihren Nachlass regeln will, trifft Satoshi auf Sunakos Geliebte Fumio.
Diese hat aber eigentlich ein Verhältnis mit Satoshis Nichte Mariko.
Mit dabei ist aber noch der Wolf, der die Probleme auf seine Art löst und dabei jede Gestalt annehmen kann.
"Life of the Machine" ist das Leben des Roboters, den Professor Takane gebaut hat. Er soll ihn bei langweiligen Empfängen und anderen gesellschaftlichen Ereignissen ersetzen.
Auch der junge Kanbayashi, der mit Takane ein Liebesverhältnis hat, wird da mit hineingezogen.
Allerdings gibt Takane seinem Roboter eines Tages den verhängnisvollen Befehl, ihn nicht mehr zu imitieren, sondern selbstständig zu handeln.
Dazu kommen noch zwei weitere Geschichten, unter anderem die Titelgeschichte "Prince of Monster".
Die Qualität der Geschichten ist dabei recht unterschiedlich. Teilweise sind sie langweilig, aber einige sind auch recht spannend.
Auch grafisch ist der Manga recht unterschiedlich. Von einfachen Zeichnungen und Charakteren bis hin zu detailiertem Charakterdesign und aufwändigen Hintergründen ist alles vorhanden.