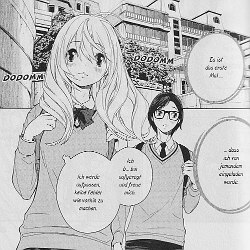 © 2012 Kang Eun-Young / Youn In-Wan
Pak Mi-Suk
TokyopopDie Schülerin Somi Han ist sehr schüchtern. Sie vergleicht sich mit Pflanzenfressern, die anderen Mitschülern, die sie als Fleischfresser bezeichnet, die aber eigentlich nur Mobber sind, aus dem Weg geht.
Dennoch kann sie es nicht verhindern, Yujin Ko aufzufallen. Ihr neuer Mitschüler gehört anscheinend auch zu den Pflanzenfressern. Nur scheint er ab und zu sein Verhalten zu wechseln, so dass Somi vermutet, dass er ein Wolf im Schafspelz ist.
Tatsächlich stellt sich heraus, dass Yujin als "Wolfsstern" Fanfiction schreibt. "Wolfsstern" ist bei den Lesern beliebt, weil er bösen Klatsch in seinen Geschichten verarbeitet. So werden seine Geschichten oft als wahr angesehen.
Leider hat er auch Somis Geheimnis entdeckt. Denn neben der Schule ist sie noch die Leadsängerin Kay der neuen Band "Born on the Fourth of July". Dafür, dass er ihr Geheimnis nicht ausplaudert, soll Somi Yujin aber intime Details von anderen bekannten Leuten ihres Verlages liefern.
Somis erste Mission für "Wolfsstern" scheint einfach zu sein. Sie soll nur der Sängerin Yoona der Girlsband "Girl's Generation" einen Brief überreichen und ihre Reaktion anschauen. Tatsächlich enthält dieser Brief nur eine komische Zeichnung. Doch die Reaktion von Yoona zeigt Yujin, dass die Band ihre Leserbriefe nicht liest.
Somi ist verzweifelt, denn die nächste Fanfiction von "Wolfsstern" stellt die nette Yoona als kaltherzige Sängerin hin.
In dem Versuch, Yoona reinzuwaschen und gleichzeitig ihre Identität zu wahren, beginnt für Somi eine Tortur. Wobei sie sich nicht nur mit Yujin abgeben muss, sondern auch feststellen muss, wie es ist, von Fans gehasst zu werden.
Für Somi ist der Manga eine Qual. Sie muss Freunde verraten und zusehen, wie sie nieder gemacht werden. Und dafür gibt sie sich die Schuld. Aber Somi wächst auch an den Herausforderungen. Sie lernt neue, nette Freunde kennen, die ihr helfen. Aber solange Yujin ihr Geheimnis kennt, ist sie nicht sicher.
Grafisch ist der Manga hervorragend. Trotz vieler Charaktere sind sie doch alle einzigartig gezeichnet. Durch ihre gezeigten Gefühle tragen sie stark zur Geschichte bei. Dazu sind die Zeichnungen sehr detailliert und sehr sauber gezeichnet.