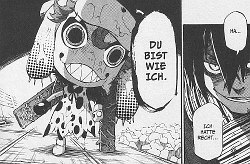 © 2015 Yuusuke Nomura / Yukiaki Kurando
Egmont MangaFür Iruma Ikaruga ist es der glücklichste Tag seines Lebens. Denn er hat gerade das Spiel gegen eine höhere Klasse mit einem waghalsigen Manöver herumgerissen. Als Dank darf er mit der Managerin Kukumano, und leider auch allen andern Spielern, alleine in das Schwimmbad der Schule.
Plötzlich überfällt aber ein Wespenschwarm die Schüler. Iruma, Kukumano und Mattsun springen ins Wasser. Als sie wieder auftauchen, müssen sie feststellen, dass das Gift der Wespen ihre Mitschüler getötet hat.
Voller Panik fliehen sie in das Schulgebäude. Aber es wird durch eine Explosion zerstört. Mattsun wird dabei schwer verletzt. Aber wie sie nun sehen können, sind auch monströse Wesen aufgetaucht, die die Menschen einfach so töten. Sie saugen sie dafür wie mit einem Staubsauger in ihren Beutel ein. Selbst Panzer können gegen diese Wesen nichts ausrichten.
Schließlich opfert sich der verletzte Mattsun, damit Iruma und Kukumano fliehen können. Aber als selbst Kukumano den Wesen zum Opfer fällt, erlischt Irumas Lebensmut.
Dennoch schafft er es, die Invasion zu überleben. Aber er fühlt sich so elend, dass er am liebsten sterben möchte. Doch er hat nicht den Mut, sich mit einer gefundenen Waffe zu erschießen.
Statt dessen wandelt er ziellos durch eine zerstörte Welt. Die Tiere fressen die toten Menschen, da niemand da ist, der sie begräbt. Er selbst ernährt sich von Konserven aus einem geplünderten Supermarkt.
Dort trifft er auch auf die wenigen anderen Menschen, die die Katastrophe überlebt haben.
So auch eines Tages Yu Vanilla. Er rettet sie vor ein paar Schlägern, weil er sie mit Kukumano verwechselt hat.
Immerhin klärt Yu Iruma etwas über die Dollys, wie sie die Monster genannt hat auf. Sie werden durch einen undurchdringlichen Schild geschützt und greifen nur noch an, wenn sie selber angegriffen werden. Da die Wespen, die die Menschen auflösen können, einfach durch Wasser sterben, vermutet Yu, dass die Dollys die Menschen nicht komplett ausrotten wollten.
Yu weiß das, weil sie einer Gruppe angehört, die sich das Ziel gesetzt hat, diese Dollys zu erforschen. Iruma ist schon fast soweit, sich ihr und ihrer Gruppe anzuschließen, als er Kukumano als Gefangene einer der Dollys sieht.
Der Manga ähnelt zunächst dem Manga "Magical Girl of the End". Dass er anders ist, wird klar, als Iruma seine aggressive Seite zeigt. Er will nicht verlieren und gegen die Dollys, die seine Kukumano haben, schon gar nicht. Schließlich bemerkt er, dass die Dollys ihn als etwas Besonderes ansehen.
Grafisch ist der Manga recht gut. Die Charaktere sind zwar teilweise etwas schräg, aber dennoch unterschiedlich und abwechslungsreich gezeichnet. Die Dollys ähneln sich zwar, aber auch sie haben alle ihre Eigenheiten. Die meisten Kämpfe gegen die Dollys sind kurz, brutal und voller Splattereffekte. Wie die Dollys und die Charaktere sind die Hintergründe auch voller Details, so dass sie gut zu den anderen Zeichnungen passen.