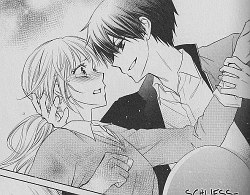 © 2018 Hiro Fujiwara
Carlsen VerlagDer Manga beinhaltet sieben Kurzgeschichten rund um die Charaktere von "Maid-Sama".
In der ersten Geschichte, "Episode: Tora", hat Chiyo Sakurai ein Problem. Sie hat eine politische Verbindung mit Taro Igarashi, dem Sohn eines mächtigen Konzernchefs, eingegangen.
Doch zu Weihnachten muss er unbedingt geschäftlich unterwegs sein. Chiyo hofft, dass er sie bald mehr respektiert. Aber Taro bekommt es mit Orie zu tun, die alles für ihr Geschäft tun will.
Die zweite Geschichte, "Does Yuki go to meet the girl?", ist ein Crossover der beiden Serien von Hiro Fujiwara. Sara folgt zusammen mit Rui Takaya in das Mutsuji-Dorf. Sie vermutet, dass Takaya ein Verbrechen plant, aber es kommt ganz anders.
In der nächste Geschichte, "Die Dämonin und XXX", geht es um ein Fest im Maid Latte, bei dem es um Dämonen dreht. Durch einen Unfall kommen sich Ayuzawa und Usui näher.
Auch die anderen, zum Teil fantastischen Geschichten handeln von den Mitarbeitern des Maid-Cafes. Und, wie der Titel schon sagt, gibt es ein glückliches Ende.
Grafisch ist der Manga durchwachsen. Die Charaktere sind ordentlich, wenn auch etwas einfach gezeichnet. Dennoch können sie, wenn auch etwas übertrieben, ihre Gefühle zeigen. Frisuren und Kleidung sind individuell und passend zur Situation gestaltet. Dabei werden Geschäftskleidung, Cosplay und Kimonos getragen. Auch die Hintergründe zum Teil sehr detailliert gezeichnet.