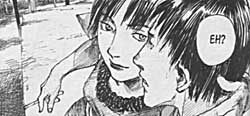 © 2002 Hiroaki Samura
Egmont Manga"Ohikkoshi" ist eine Zusammenstellung von Kurzgeschichten des Zeichners von "Blade of the Immortal".
Dabei geht es um Liebe und vor allem, um enttäuschte Liebe.
So geht die erste Geschichte um Sachi. Er ist Student und in Mayu verliebt.
Mayu aber hat einen Freund, Taki, der beim Militär ist. Sachis Chance kommt aber, als Taki zu einem Friedenseinsatz zwei Jahre nach Sambia geht.
Doch Sachi leidet darunter, daß er Mayu nicht seine Gefühle erklären kann. Allerdings hat Maya diese schon längst erraten.
Sie findet aber, daß Sachis Sandkastenfreundin Reiko besser zu ihm passt, zumal Reiko eigentlich in Sachi verliebt hat. Reiko kann es aber nicht offen zeigen, da sie offiziell Sosuke als Freund hat.
So bilden sie aber eine Studentenclique, die zusammenhält, egal wie lange die Trinkgelage dauern.
Es bricht aber einiges zusammen, als Reiko mit dem Barone, einem italienischen Lehrer einen Ausflug macht und dabei von Sosuke beobachtet wird.
In der zweiten Geschichte geht es um Natsumi Funabashi, einer Mangaka, die vom Leben enttäuscht wird und dadurch zur gefeierten Mangaka aufsteigt.
Die dritte Geschichte des Bandes ist schliesslich eine kurze witzige Spukgeschichte.
Die ersten beiden Geschichten handeln von Hoffnung und Enttäuschung. Wobei die Erste einfach ein chaotisches Studentenleben beschreibt, die Zweite aber übertrieben ist. Zu unglaubwürdig sind die Stationen in Natsumis Leben.
Grafisch sind aber alle drei Geschichten sehr schön geworden. Die Zeichnungen mit dem harten Strich passen sehr gut zu den Erzählungen. Auch der Einsatz der Rasterfolie ist nicht übertrieben.