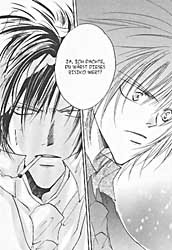 © 2005 Jun Mayama
Egmont MangaDer Manga "STOP! In the Name of Love!" beinhaltet drei Kurzgeschichten, die sich um Boys Love drehen.
In der Titelgeschichte wacht der junge Chirurg Fukami eines morgens neben einem jungen Kerl auf. Seine Verlobte Kyoko, die die beiden überrascht, verlässt ihn darauf augenblicklich.
Auch im Krankenhaus wird der Tag für Fukami nicht besser. So läuft ihm Tachibana über den weg, einer seiner Konkurrenten im Krankenhaus, der mit der hübschen Tochter des Chefs, Asako, verlobt ist.
Und als Fukami nach Hause kommt, ist der Junge wieder in seiner Wohnung. Als Fukami ihn hinaus werfen will, stellt der sich als Yosuke Hibiya, sohn des Krankenhausdirektors vor. Er erpresst Fukami, so daß dieser ihn bei sich wohnen lässt.
Denn Yosuke ist alles andere als begeistert von der zukünftigen Ehe zwischen seiner Stiefschwester und Tachibana. Er gesteht Fukami sogar, daß die Sache mit Kyoko arrangiert gewesen ist, weil diese Fukami los werden will. Der Grund für seine Hilfe war die Rache an Liebenden.
So hat Fukami erst einmal einen Klotz am Bein und muss versuchen, aus der Geschichte heil herauszukommen.
Die zweite Geschichte, "Sexy Friend 69", dreht sich um den Schüler Minezaki. Er wird von der Yakuza erpresst, die Schulden seines verstorbenen Vaters als Callboy für Männer abzustottern. sein Leben ändert sich aber, als der Favourit seines Mitschülers Kago wird.
Die dritte Geschichte, "Picaresque" spielt zur Eiroku-Zeit. Es geht hierbei neben Liebe und Intriegen um die Clanherrschaft.
Alle drei Geschichten in dem Band sind sich recht ähnlich. Homoerotische Liebe, Intrigen und Macht, die durch die Liebe geteilt wird. Allerdings werden diese Dinge durch die verschiedenen Zeiten und Gesellschaftsschichten unterschiedlich dargestellt. Das Ganze ist dann noch humorvoll verpackt, was zu unterhaltsamen Geschichten führt.
Grafisch ist der Manga oberes Mittelmaß. Zwar sind die Zeichnungen sauber und klar, aber das Charakterdesign ist manchmal uneindeutig und auch standarisisert.