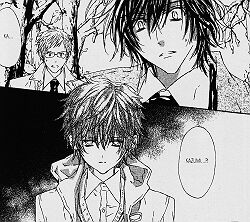 © 2006 Miyagi Tooko
Egmont MangaDer Manga "Byakuya Zoushi - Weiße Nacht" beinhaltet mehrere Kurzgeschichten von Miyagi Tooko. Es sind mysteriöse Geschcihten von Geistern und anderen Spukgestalten der japanischen Mythologie.
In "Weiße Nacht - Opfer" hat der Schüler Sho das Leben satt. Um zu entspannen und auf andere Gedanken zu kommen reist er in die Berge zu seinen Großeltern.
Angeblich ist er der einzige jüngere Mensch dort, aber auf seinen Radtouren findet er ein junges Mädchen.
Seine Großeltern warnen ihn vor einer alten Legende, nach der der Teufel die besten Teile der Leichen in der Umgebung gesammelt hat, um daraus ein hübsches Mädchen zu formen, aber Sho glaubt nicht daran.
Als er bei einer seiner Radtouren stürzt, hilft ihm aber das Mädchen und verbindet seine Wunde.
Dann zeigt sie ihm aber ihr wahres Gesicht.
"Weiße Nacht - Beisetzung" beginnt mit dem Begräbnis von Kajawara. Er war einer der Freunde von Kazumi, weshalb dieser zurück in seine Heimatstadt gekommen ist.
Dabei hat Kazumi in letzter Zeit so seltsame Träume von seinen Freunden, die Tiere töten. Aber das war, als sie noch Kinder waren.
Dennoch ist mit Kajawara der letzte von ihnen gestorben oder wahnsinnig geworden.
Um das Geheimnis zu lüften zieht es Kazumi zu dem geheimnisvollen Lagerhaus, wo alles stattgefunden hat.
In "Weiße Nacht - Sturz" verirrt sich ein junges Mädchen im Wald und trifft auf Fuchsgötter. Doch egal, was sie unternimmt, die Füchse wollen sie nicht gehen lassen.
Und in "Weiße Nacht - Winken" sieht Toru immer wieder eine winkende Hand. Sie soll einem angeblich zu einem Weiher locken, wo seid Generationen die Menschen hineingestoßen werden. Und zwar immer derjenige, der das vorherige Opfer getötet hat.
Und nun ist Fukiko, seine Cousine verschwunden und er hat den Traum, daß er sie hineingestössen hat. Um zu büssen, aber auch, um das Geheimnis zu erfahren, folgt Toru eines Tages der Hand, nur begleitet von Fukikos Schwester Sonoko.
Die letzte Geschichte, "East of the Sun, West of the Moon" ist zwar die längste Geschichte des Bandes, ist aber eigentlich nur eine alte Geschichte der Autorin, die ihren Platz gefunden hat.
Die Horrorgeschichte der "Weißen Nacht" sind interessant zu lesen. Zumal sie nicht immer unbedingt so enden, wie man es sich durch den Beginn vorstellt. Die letzte Geschichte, eine Fantasiegeschichte, fällt dagegen etwas ab.
Grafisch sind die Geschichten gut gelungen. Das Charakterdesign ist zwar etwas einfach, aber dennoch durch seine Individualität gelungen. Man spürt das Leben in den Figuren, auch bei den Nebencharakteren.
Dazu kommen detailreiche Landschaften und Hintergründe, die einen nicht unbedingt auf das Kommende vorbereiten.